Crawl Space Repair and Moisture Control in Durango, Grand Junction, Farmington NM, and the Surrounding Areas
Wood, fiberglass resins, paper, cardboard, and other materials can easily grow mold and rot in a crawl space. This will make the floor above sag.
There are three things that typically destroy building materials (wood in particular): water, temperature, and ultraviolet radiation. Of these, water is by far the most important.
A dirt, vented, or unconditioned concrete crawl space under a home in Colorado & New Mexico is a very bad idea. The earth has very high humidity in the soil.
This water vapor moves easily into the crawl space from outside, where it is pulled upwards into the home environment.
Damp environments are unhealthy and destructive... a place where mold thrives and spreads by producing millions of airborne spores - a rare few of which are even toxic - and heating and cooling costs are higher, especially if you have a vented dirt crawl space.
Insects and critters of all kinds (including mice and termites) love damp environments and wet materials. Rot and decay occur in damp environments, causing structural damage.
Crawl spaces do not have to be flooded to be unhealthy
The natural airflow in a house is from bottom to top. This sucks the moist air and everything in it up into the living areas of the home. Mold spores, odors, humidity and critters create a very unhealthy environment for people.
Many people are allergic to these things, and experience a host of symptoms and don't realize that their dirt crawl space is affecting their health.
Now there is a solution to dirt crawl spaces - The CleanSpace® Crawl Space Encapsulation System - developed by Basement Systems, the world leader in dry basement and crawl space technology.
The CleanSpace® Crawl Space Encapsulation System
Cleaning and sealing a crawl space is a one-day job, and our liner comes with a 25-year warranty!
The CleanSpace® crawlspace vapor barrier will isolate a home from the earth, and reduce the relative humidity level in the air.
Lower humidity levels reduce or, in some cases, eliminate mold growth, rot, and critters from your crawl space, making the entire house healthier. The crawl space liner is a heavy 20-mil-thick material, similar to a pool liner, although CleanSpace® acts to keep out water and air.
The crawl space liner is manufactured in seven layers - a blend of high-density polyethylene, low-density polyethylene, and two layers of polyester-cord reinforcement. The liner is blue on one side and white on the other. The bright white side is placed upward and really brightens a crawl space with the available lighting, allowing for easy inspection and reassurance that your crawl space is free of mold, insects, and dirt.
The CleanSpace® liner is tough enough on which to crawl and store items on -- giving a home extra storage space. Service people can crawl on it without worry of putting holes or tears in the liner -- and they'll love you for it! The liner completely stops moisture from penetrating through it.
Crawl Space Repair: Before and After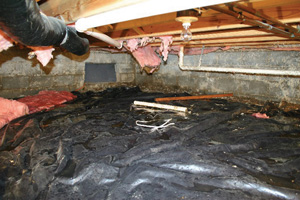 Moisture, mold and falling, failing insulation are problems in this crawl space, which hasn't been properly sealed.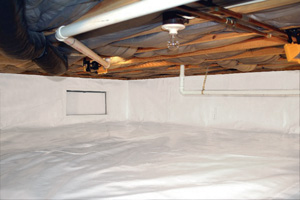 The encapsulation treatment totally separates and protects the crawl space interior from outdoor conditions, keeping the space clean and dry.
Grand Junction Crawl Space Contractors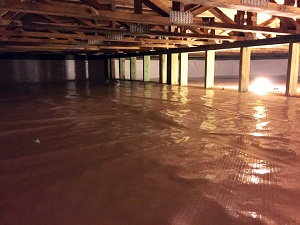 All-size solutions. The CleanSpace® Crawl Space Encapsulation System can provide moisture control for any size crawl space.
When you're ready to seal & upgrade your crawl space, Silver River Basement Systems would like to be there to help you. They service all of Colorado & New Mexico, including Durango, Farmington NM, Grand Junction, and other nearby areas in CO & NM.
For a free, no-obligation crawl space encapsulation quote, call or e-mail us today!
Looking for a price? Get a no cost, no obligation free estimate.